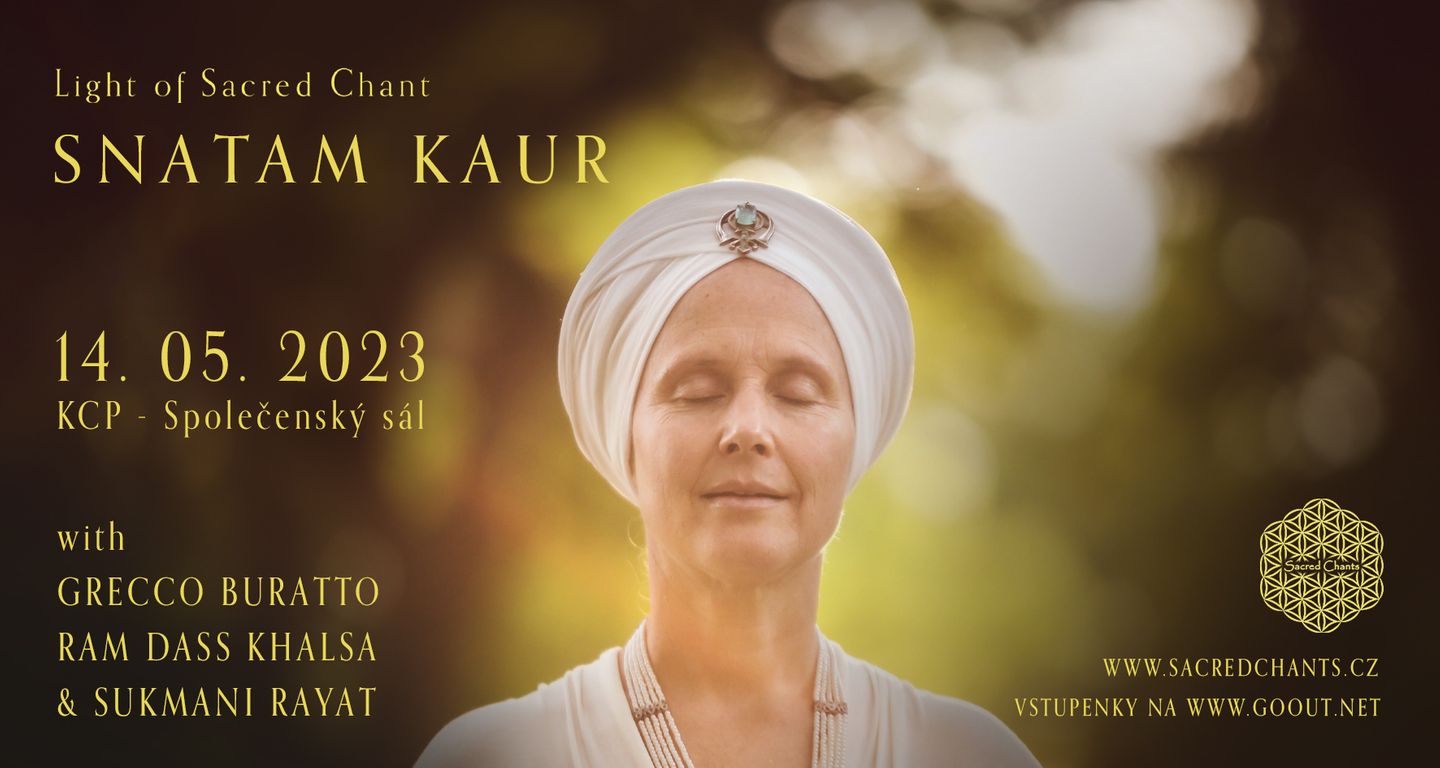 14. 05. 2023 - koncert , začatek v 19:30
Snatam Kaur's 2023 Light of Sacred Chant Tour
Beloved devotional singer and Grammy-nominated recording artist, Snatam Kaur has announced her upcoming Light of Sacred Chant Tour. Beginning in spring 2023 with a series of European shows, the tour will continue through the US, Canada, and Latin America in the fall. Snatam is celebrated for her incandescent luminous voice and profound knowledge of mantra and Kundalini yoga. Accompanied by gifted, versatile musicians, her concerts are joyous, transformational experiences providing solace in these difficult times.
Audiences are invited to join Snatam in these deeply personal and jubilant sacred song journeys that arc from quiet introspection, to tapping into self-acceptance, self-love, self-awareness, and forgiveness, then arriving at a healing space of giving oneself over to mantra, before moving into the light of pure celebration, and finally a shared space of prayer and blessings.
Snatam's band includes her producer, Ram Dass (piano and vocals), Grecco Buratto (guitar and vocals), and Sukhmani Rayat (percussion and vocals).
> EARLY BIRD vstupenky do 1.1.2023 zahrnují bezplatné stažení celého nového alba Live in Concert Vol. 2.
> EARLY BIRD vstupenky jsou k dispozici pouze do 1.1., poté se cena zvýší o 15 %
> Early Bird Tickets are only available until 1.1, after which the price will increase by 15%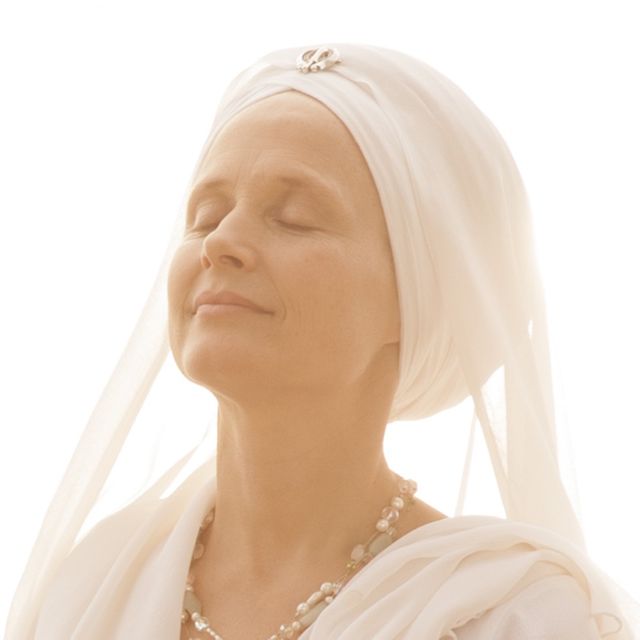 Snatam Kaur (Panjabi ਸਨਾਤਮ ਕੌਰ ਖ਼ਾਲਸਾ) je americká zpěvačka a mírová aktivistka.
Snatam Kaur is a world-renowned, Grammy-nominated devotional singer, touring musician, teacher, and author, known for the stirring luminous quality of her voice and insightful teaching. After a pandemic hiatus, Snatam is now embarking on her Into the Light Tour, with summer concert dates across Europe, the UK, and Israel.
The shows invite people to gather joyfully, in community, and acknowledge the profound changes and growth we have each experienced during the pandemic. Many of the Into the Light tour dates are at outdoor venues, providing the shared healing of coming into the power of nature to chant sacred mantras.
The tour corresponds to the release of Snatam's 16th major album release, Nirankaar, and a new Mantra and Meditation series she recorded and will teach with live workshops during the tour. Performing with Snatam on the Into the Light Tour are Ram Dass (piano and vocals), Grecco Buratto (guitar and vocals), and Sukhmani, (percussion and vocals), the same extraordinary musicians who collaborated with her on the Nirankaar album.
Snatam's Mantra and Meditation workshops are focused on the chants that appear on Nirankaar. Each workshop also includes yoga, breathwork, and meditation instruction. Additionally, Snatam is teaching the series through Kirtan and Kundalini, her online school of sacred music and yoga, then rebroadcasting it on her YouTube channel.
Born in Trinidad, Colorado, Snatam was raised in the Sikh and Kundalini yoga tradition in a household and community rich with traditional Sikh music and chanting. Her mother, Prabhu Nam Kaur, is a Gurbani Kirtan singer and growing up, Snatam learned how chanting, singing, and practicing Kundalini Yoga could be a deep source of strength. By the time she was in high school, she had adopted the practices—especially chanting—something she considered a huge blessing. Snatam lived her formative years in Sacramento and the Bay Area, often traveling with her family to India where she studied with Sikh musicians. She currently resides in New Hampshire with her husband Sopurkh Singh and their daughter, Jap Preet Kaur, who joins her singing on Nirankaar.
Snatam's professional music career began in the late '90s, performing at an all-night Kirtan festival in Lake Wales, Florida with a band called The Peace Family, with who she recorded her first album in 1999. After initially performing and recording in English, she felt drawn to traditional Sikh chanting and music and recorded Prem, her first solo album, in 2001.
Not long into touring, Snatam was inspired to teach. She had met people along the way who, having a powerful feel-good experience, wanted more. Snatam felt that if she could teach them to chant and develop a spiritual practice, they could continue on their own. She began teaching workshops along with her concerts, which culminated in the 2016 release of her book Original Light. The book's goal was to help people create meaningful daily spiritual practices modeled on the Aquarian Sadhana, the spiritual practice Snatam grew up with, including recitation, yoga, and chanting.
Snatam's husband Sopurkh is also a teacher and since the beginning of the pandemic, they established Kirtan and Kundalini, an online school dedicated to supporting the spiritual journey of as many people as possible.
At a concert, with the new album, Nirankaar, or participating in a workshop, be sure to join Snatam this summer in coming Into the Light!
Oficiální web Snatam Kaur : http://www.snatamkaur.com/